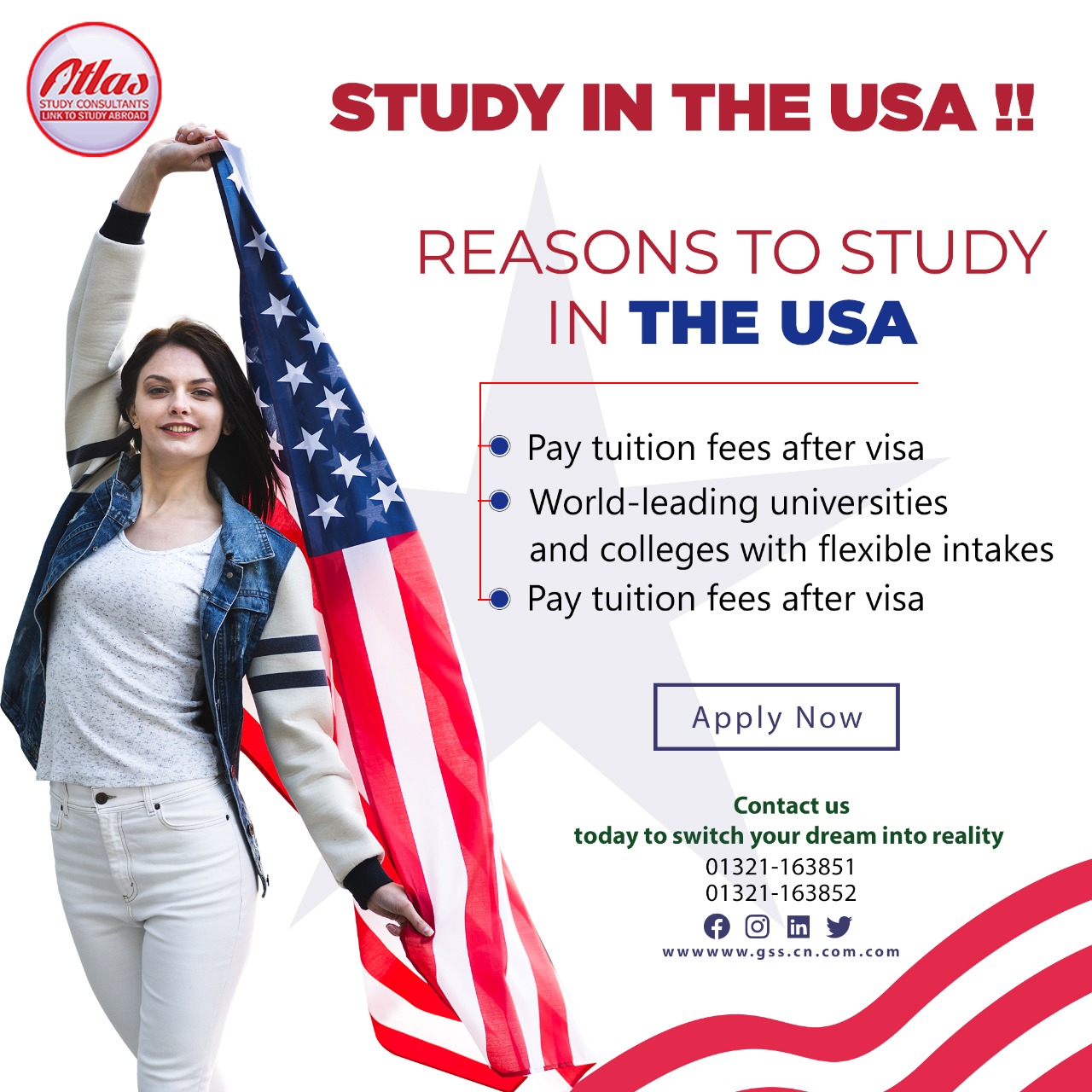 Any international student studying in the United States is issued one of the following three visas: F1 visa, J1 visa or M1 visa. Many people ask, 'Which visa do you need to work as an international student in the US?'. F1 and J1 visas allow for employment opportunities. However, the M1 visa does not allow for employment. We've detailed each of these three types of international student visas so you can familiarize yourself with them and how they will affect your life in the US.
Types of Student Visas for Bangladeshi Students -
F1 Visa :
"F" visa is granted for academic studies. F1 visas are issued to students who attend an academic program or an English language program. The F1 visa is the most common form of international student visa in the United States. F1 students must adhere to the minimum course load for full-time student status. F1 status allows for part-time, on-campus employment. But that's less than 20 hours per week. Students can also work on optional practical training (OPT) for up to one year after completing their academic program. Students must complete their studies by the expiration date on the Form I-20 (Certificate of Eligibility for Nonimmigrant Student Status).
M1 Visa :
M1 visas are usually issued to students attending non-academic or vocational schools. M-1 visa holders in technical and vocational programs are not permitted to work
while studying. M-1 student visa applicants must have proof that they have sufficient funds immediately available to cover all tuition and living expenses.
J1 Visa :
J1 visas are issued to students who are required to undergo practical training. And that is not avaiblale in their country to complete their academic program. J-1 student status allows the same type of employment as the F1 visa. All are similar, including restrictions, unless permitted by the exchange visitor program sponsor.
Living with USA student visa -
As you think about sources of funding for your educational and living expenses in the US, remember that you cannot rely solely on working in the US unless you have been granted a teaching or research assistantship. Immigration regulations are a little tougher when it comes to working while holding a student visa, and when you submit proof of your financial resources, you can't rely on potential income. You must confirm that the income you base your application on is equal to or more than the cost of your first year of study.
Read more: Apply for Student Visa in USA from Bangladesh
Careful long-term and short-term planning is necessary to ensure a productive educational experience in the United States. If you are realistic about your financial needs, you will be able to enjoy the exciting academic and cultural experience of living and studying in the United States.
Applying for your USA student visa -
When putting together your application for a student visa, you should first research your university's admissions policy and contact experts. Keep the following points in mind:
Academic Qualification -
Each school has different academic eligibility criteria. The school tells them what their needs are. If you're still in the process of researching different schools, you can use USA School Search to research general academic standings and test scores.
Financial Stability -
Need to show that you can support yourself without having to work.
Health Insurance -
Have to show proof of health insurance in order to cover any medical expenses should you need any medical assistance.
For detailed application information and help preparing for your visa interview, please visit in the Atlas Study Consultants.
Arrival at the USA port of entry -
Need to be aware that even if your visa is granted, it does not guarantee your entry into the USA. It is ultimately up to the CBP [Customs and Border Protection] to let you into the USA. At the port of entry, a CBP official validates Form I-94, Record of Arrival-Departure, which notes the length of stay
permitted. This will be a small white card issued by USA Customs and Border Protection upon your entry to the USA. The form I-94 is your permit to stay in the USA.
How many years you can stay in the USA after graduation -
USA immigration law said that, students with F visas must leave the US within 60 days after the program end date that is listed on form I-20. Students with J and M visa status must leave the USA within 30 days after the program end date that is listed on form I-20. However, if you wish to extend your stay in the USA, you may request a visa extension through the US Citizenship and Immigration Services (USCIS) website.
How you can change your visa status -
While living in the USA, your plans may change and you might have to change your visa status. If you wish to do this at any time while living in the US, you do not have to apply for a new visa. You must request to change your nonimmigrant status through USCIS. We recommend that you notify your Designated School Official (DSO) about your desire to change as it's important that your school is aware of any changes to your nonimmigrant status, and your DSO can help you through the process.
How to get student visa in USA from Bangladesh -
1. The first step is to apply and eventually gain admission to a US school. Most full-time undergraduate and graduate programs in the US require applications to be submitted by December or January each year. Schools typically send out admission notifications around March and April.
2. Once admitted to a school, you'll receive one of two forms: F-1 and M-1 students will receive Form I-20 (Certificate of Eligibility for Nonimmigrant Student Status), and J-1 students will receive Form DS-2019 (Certificate of Eligibility for Exchange Visitor (J-1) Status).
3. Once you receive your I-20 or DS-2019 form from your school, go online and pay the I-901 SEVIS fee. Once again, this fee is 350 USD for F-1/M-1 students and 220 USD for J-1 students. (Those participating in short-term J-1 visa programs will pay only 35 USD.)
4. You must apply for your international student visa through your nearest US embassy or consulate (ideally, in the city or region in which you live). You can search for US embassies and consulates online through the US Department of State.
5. Next, complete the Online Nonimmigrant Visa Application, also known as Form DS-160. To successfully fill out this form, be sure you have the following items on hand:
• Your passport.
• A visa photograph (to upload).
• Form I-20 or DS-2019 (remember, which form you receive depends on whether you are an F-1/M-1 or J-1 student).
6. After you've submitted Form DS-160, contact your nearest US embassy or consulate (ideally, the one you input on your online application) to schedule your visa interview.
7. Next, pay the 160 USD application fee. This fee is the same price regardless of your country of origin and where you apply.
8. The last big step in the visa process is the interview. This interview will be the deciding factor as to whether you will receive a US student visa or not.
9. Some students must pay a visa issuance fee once they have been approved for a US student visa. Whether this fee is required or not depends on your nationality and your country's reciprocity agreement with the US.
10. Once you've completed all of the steps above and have received approval for an international student visa to the US, your embassy will return your passport to you with your new visa in it. Note that some embassies will require you to come in person to pick it up, whereas others will mail it directly back to you.
Best universities for Bangladeshi students in USA -
1. St. Cloud State University.
2. Westcliff University.
3. California State University.
4. Montana State University.
5. Rockford University.
6. Wright State University.
7. University of Findlay.
8. Troy University.
9. Saint Francis University.
10. Mercy College.
11. Community colleges.
Leave a comment