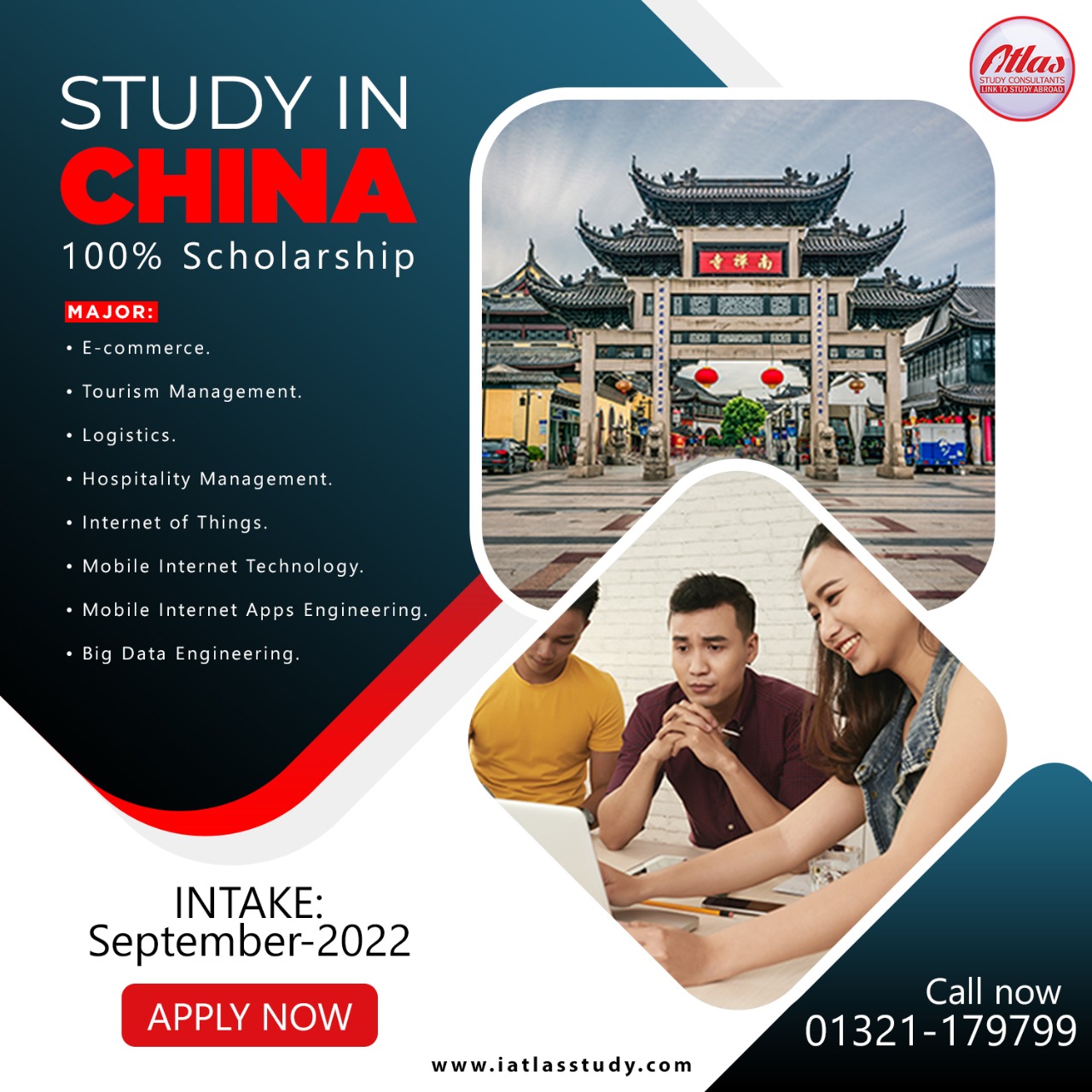 China is a rising economic power, playing an important role in global business and this is what makes China a highly preferred location for international students to further their education. There are many top public and private universities that offer MBA in China degrees. Which provides students with an education that prepares them competitively for the job market in China as well as around the world.
By completing an MBA in China, students will learn the practical application of business principles, which they will gain from challenging coursework designed to give them a strong business foundation. Coursework for MBA in China focuses on study topics such as business law and ethics, technology and business, organizational behavior, supply chain management, communication and leadership most of the time. Students pursuing an MBA in China gain access to vast professional networks that can help them advance their careers.
A scholarship can make your university life easier and stress-free with financial security. If you want to study an MBA in China, you might wonder what Chinese MBA offers you the possibility of winning a scholarship. Here is the list and details of Chinese MBAs with scholarship opportunities -
• PKU-UCL MBA at Peking University
→ Application fee: 150 USD.
→ Deadline: June 30, 2022.
→ Location: Beijing.
→ Degree level: Master's.
Peking University is the best university in China by many international rankings. Peking University is especially renowned for its campus and its traditional Chinese architecture.
The Peking University-UCL MBA brings together two world-leading universities in Beijing, the center of one of the world's largest and most dynamic economies, offering MBA programs. Students also have the possibility to take elective classes in London during the summer months. The UCL MBA with Peking University combines the unique strengths of research and education from the UCL School of Management and the National School for Development at Peking University.
The Peking university-UCL MBA combines the unique studies and coaching strengths of the UCL school of management and the Peking national college of improvement.
Peking University's National School of Development hosts
some of China's leading academics, who are responsible for advising the Chinese government on development policies that have helped drive strong and sustained economic growth for decades. Experienced National School of Development academics provide students with a high-level view of company management in changing national and international government policy contexts.
Management best practices are evolving to accommodate the reach of technology and UCL School of Management's forward-thinking academics, who specialize in innovation, entrepreneurship, technology and analytics, help students develop the quantitative and qualitative analytical skills needed to engage with our changing world.
The Peking University-UCL MBA program prepares managers and leaders who can operate in the complex, innovation-intensive, data-driven environment of the future.
The PKU-UCL MBA is available for 28 months for part-time students and 16 months for full-time students.
• Fudan - MIT IMBA at Fudan University
→ Application fee: 130 USD.
→ Location: Shanghai.
→ Degree level: Master's.
GMAT scholarships is awarded on the basis of the applicant's outstanding achievement in their GMAT examination. Registered students (admitted in 2021) who achieve a GMAT score of 650 or higher are eligible for scholarships ranging from RMB 40,000 to 100% tuition fee.
→ The GMAT score of 750 and above will be granted at 100% of tuition fees (without limited quota);
→ The GMAT score between 710 (including 710) and 750 will be awarded 50% of the tuition fee;
→ The GMAT score between 680 and 710 will be awarded 30% of the tuition fee;
→ The GMAT score between 650 scores and 680 will be awarded 40,000 RMB scholarship.
Admitted candidates will be automatically considered for this scholarship and there is no need for a separate application for -
→ Diversity Scholarship.
→ Entrepreneurship Scholarship.
→ Excellence Scholarship.
→ Women Leadership Scholarship.
→ Social Responsibility Scholarship
→ Young Talent Scholarship.
• PKU-Vlerick MBA at PKU, China
PKU-Vlerick MBA degree is granted by the Vlerick Business School, which belongs to a best group of business schools in the world that hold all 3 major international accreditation labels in the high level management education. It's a four-month part-time MBA program. Classes are held in weekend days.
• Finance MBA at Fudan University
→ Application fee: 140 USD.
→ Location: Shanghai.
→ Degree level: Master's.
A merit-based scholarship on applicants academic and professional achievements, personal accomplishments, interview performance and potential contributions to the FMBA program, the Global Excellence Scholarships can waive up to 100% of the tuition.
GMAT test score: 700+ score will receive up to $7,000 USD scholarship
PQ Holders: Qualifications can qualify up to a $7,500 USD scholarship .
• IMBA Part-time at Zhejiang University International Business School
→ Application fee: 125 USD.
→ Location: Haining.
→ Degree level: Master's.
The ZIBS First Year Scholarship is awarded to individuals with exceptional global leadership potential. This scholarship open to all international students who admitted first year.
It will paid to students monthly as a living allowance . The scholarship will be disbursed after one school year. Students are required to pay the tuition in full upon registration.
• CEIBS Scholarship (Top ranking MBA scholarship in Asia)
Ranked No. 1 in Asia by the Financial Times for six consecutive years, CEIBS (China Europe International
Business School) MBA program offers a truly global perspective. Based in Shanghai, China's largest economic hub, the program is designed to take students out of the comfort zone and directly into the new economy, allowing them to experience first-hand the world's most dynamic city and its opportunities. In this program, 16 / 12 month full-time options are also available, the program offers a transformative journey that few others can match and combines a wide range of world-class curriculum with case studies, experiential projects and study tours.
In a global and constantly changing environment, business people must be equipped with a very wide range of skills. They must be able to take both global and local perspectives and be able to deal with change, which will make them adept at leading innovation. By providing solid business training and encouraging team collaboration and open communication, CEIBS equips its graduates for success in many career paths.
The 64-credit full-time program consists of separate 33-credit and 31-credit elective courses. The program is designed to lay a solid foundation while providing the flexibility to tailor programs to individual interests and career ambitions. Students can choose to focus on general business management or choose one of four concentrations in finance, marketing, digital business or entrepreneurship.
Students gain international experience through the school's impressive international exchange program, one of three
integrated degree programs, or one of five overseas electives.
APPLICATION FEE : USD 180 or RMB 1,000.
TUITION FEE :
→ 16-month MBA programme - RMB 458,000.
MBA at Tsinghua University
Tsingh a University SEM and the MIT Sloan are offering a 21-month MBA program.
The Tsinghua Global progm MBA Pr, in collaboration with MIT. The Tsinghua Global MBA Program is distinguished by its world-class learning experience and high-caliber global student body.
The Tsinghua Global MBA Program is designed to cultivate future leaders with general management capabilities. The comprehensive curriculum is balanced between knowledge and practice, hard and soft skills, global perspectives, and China roots.
The tuition fee for The Tsinghua Global MBA Program is USD $31,118 for the whole program.
Tsinghua University offer so many scholarships and financial aid for students registered at this universities MBA program,
scholarships granted by merits and essential need basis. Including the following:
Tsinghua MBA Distinguished Student Scholarship.
How to increase your chances for Chinese scholarship?
Based on the scholarship criteria set by the universities, here are top tips to increase your chances for a Chinese MBA with a scholarship:
→ Achieve high grades.
→ Must apply soon.
→ Develop unique professional or personal achievements (how to write a CV/resume).
→ Must do well in application interview.
→ Write an excellent personal statement.
Leave a comment