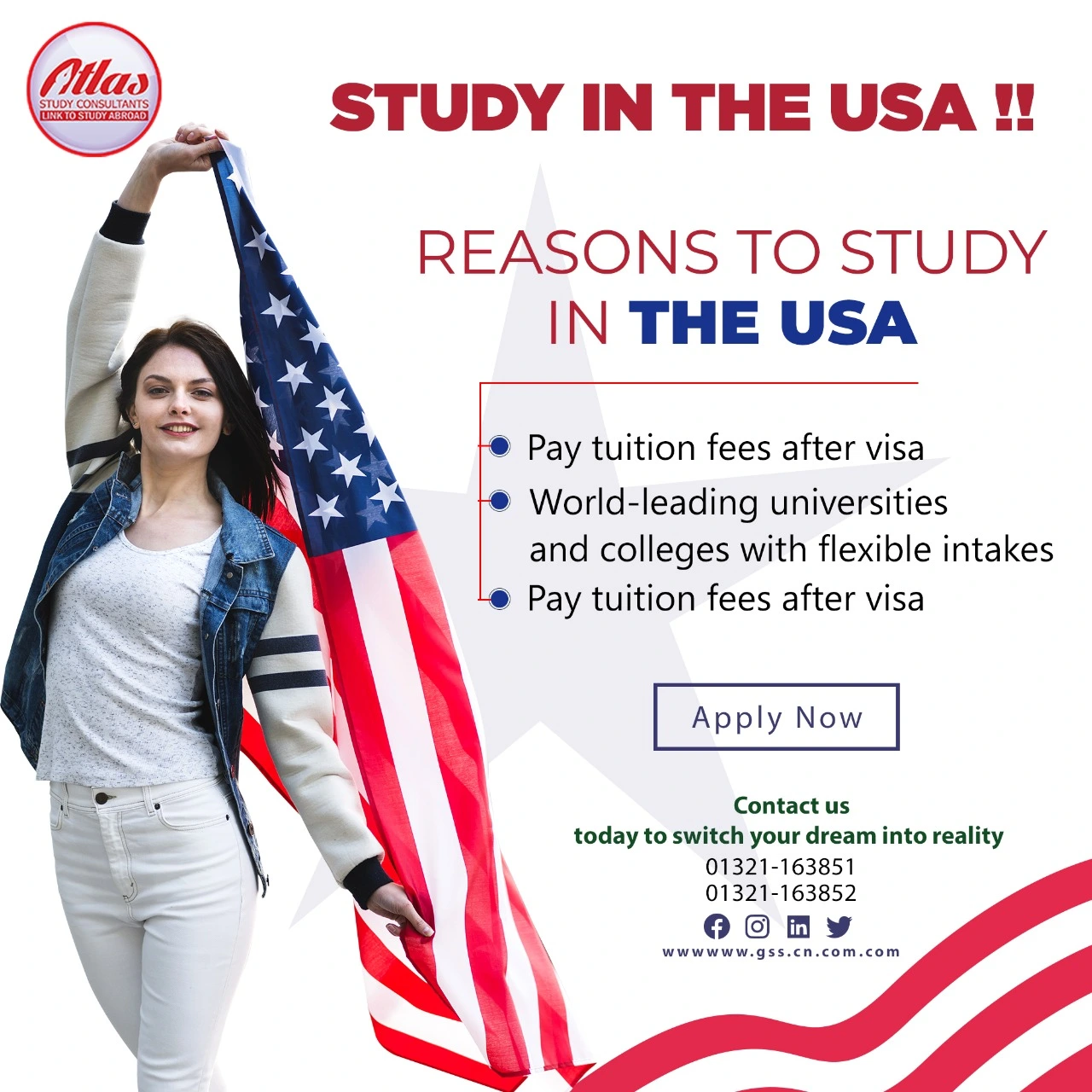 The United States always welcomes Bangladeshi nationals to study in the United States. Before applying for a visa, all student visa applicants must enroll themselves in an educational institution or program. The educational institution then provides the necessary documents to each applicant while applying for a student visa.
USA student visa details and eligibility from Bangladesh -
F - 1 visa :
This student visa is the most common visa for students in the United States. You will need an F-1 visa if you intend to study in the United States at an accredited college or university, private secondary school, accredited English language program. For this visa your course of study must be more than 18 hours a week.
M - 1 visa :
If you intend to participate in non-academic or vocational study or training in the United States, you will need an M-1 visa.
Read more: Study in USA from Bangladesh
Visa application items for Bangladeshi students -
To apply for an F or M visa, Bangladeshis must submit the following:
• A nonimmigrant visa electronic application form (DS-160) will be required.
• Must have a valid passport for travel to the United States, with a validity date of at least six months beyond the specified period of your stay in the United States (unless country-specific agreements exempt). If your passport includes more than one person, each person wishing to obtain a visa must submit an application and have their own valid passport.
• A 2"x2" (5 cmx 5 cm) photograph and must be taken within the last six months.
• The student must have a receipt of payment of the US$160 non-refundable non-immigrant visa application processing fee paid in local currency. If a visa is issued, you as a Bangladeshi may have to pay an additional visa reciprocity fee. When a student admitted in the institution, admitted institution immediately registers in the Student and Exchange Visitor Information System (SEVIS). To have complete full registration, there is a SEVIS I-901 fee. For the F1 visa, this fee is $200.
• An approved I-20 from your USA-based educational
institution or program.
Apart from these items, you must present an interview appointment letter to confirm that you have booked an appointment through this service. You may also bring along any supporting documents that you believe support the information provided to the consular officer.
Bangladeshi students how to apply for US visa?
• The nonimmigrant visa electronic application (DS-160) form must be completed.
• USA visa application fee must be paid.
• The following information will be required to schedule an appointment:
→ Passport number.
→ The receipt number from visa fee receipt.
→ The ten digit barcode number from DS-160 confirmation page.
• Visit the US Embassy or Consulate on the date and time of the visa interview. Must bring a printed copy of the appointment letter, DS-160 confirmation page, a photograph taken within the last six months, current and all old passports and original visa fee payment receipt. Applications without all these items are not accepted.
Supporting documents for USA student visa -
Supporting documents are one of the many factors that a US consular officer will consider in an interview. They look at each application individually and take professional, social, cultural and other factors into account when judging. Looks at specific objectives, family situation, long-range plans and prospects in the United States. Each case is examined individually under the law.
Precautions to be taken –
False documents cannot be presented. Any form of fraud may result in permanent visa ineligibility. The USA embassy or consulate does not make applicant information available to anyone and respects the confidentiality of information.
The following documents should be brought to the interview:
• Documents demonstrating strong financial, social, and family ties to the home country that would require return to the home country upon completion of the program of study in the United States.
• Financial and any other documents that will support the application, which provide credible evidence that there are sufficient funds readily available to cover all expenses for the first year of study and that you have access to sufficient funds to cover all expenses during your stay. M-1 applicants must demonstrate the ability to pay all tuition and living
expenses for the entire duration of their intended stay in the United States.
• Photocopy is not accepted unless original copy of bank statement or original bank book can be shown.
• If another person is financially sponsoring the applicant, show proof of relationship with the sponsor (such as your birth certificate), the sponsor's recent original tax form and the sponsor's bankbook or fixed deposit certificate.
• Academic documents that show a student's educational preparation. Useful documents include school transcripts with grades (original copies preferred), public examination certificates (A-level, etc.), standardized test scores (SAT, TOEFL, etc.) and diplomas.
Dependents for USA student visa -
• Spouse under 21 years of age or unmarried children who intend to remain in the United States with the principal visa holder or require a derivative F or M visa for the duration of his or her stay. No derivative visas for parents of F or M holders.
• If family members do not want to live in the United States with the principal visa holder but only want to visit for vacation, they may be eligible to apply for a visitor (B-2) visa.
• Spouses and dependents generally cannot work in the
United States on derivative F or M visas. If the spouse/child seeks employment, the spouse must obtain an appropriate work visa.
Dependents must need to provide -
• Evidence of the student's relationship with a spouse or children (eg, marriage and birth certificates).
Families applying for their visas at the same time should bring a copy of the student visa holder's passport and visa along with all other required documents if the spouse or child is to apply separately at a later date.
How to bangladeshi students study in USA without IELTS?
Criteria you need to meet to get admission in a US university without IELTS –
• A Bangladeshi student who has completed any type of academic study in the USA for at least one year, can be accepted into a university to study in the USA without IELTS.
• There are some intensive English learning programs that many US universities offer. Abbreviated as IELP, they serve as alternatives to the IELTS and TOEFL tests.
• There are some summer programs in the US where a Bangladeshi student can meet the lack of proof of English language proficiency and study in America without IELTS.
• Some universities in the USA offer bridge courses for students who do not meet the minimum English language requirements for direct admission to a course.
• Secondary school education or if you have completed a bachelor's degree in English, some institutions may not require proof of English language proficiency.
The consular office of U.S. Embassy Dhaka is located at the following address:
U.S. Embassy Dhaka,
Madani Avenue, Baridhara
Dhaka-1212, Bangladesh.
Only 85% US visa acceptance rate in 2022 is due to not proving themselves eligible on this basis. According to one estimate, a US student visa is the most applied visa worldwide. So there is tough competition here. To clear all the bases without any mistakes, it is necessary to take the help of trusted and experienced mediums. Atlas Study Consultants has been dealing with US educational institutions admission and visa processing for a long time. A large number of Bangladeshi students are already staying in the United States with our cooperation. So in the light of that experience, we are determined to help a student who wants to study in the United States. Atlas Study Consultants assists in all stages of a student's admission, from visa application to preparation of all documents and preparation for interview at the embassy.
Leave a comment